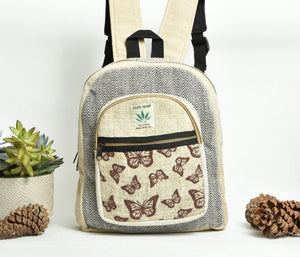 Butterfly Backpack - 11 inches - 100% Sustainable and Eco-Friendly Hemp Backpack - Printed Backpack - Nature Lover Gift - Small Backpack
Regular price $49.00 Sale
OCCASION: School, hiking, camping, climbing, running, cycling, bike riding, outings, traveling and vacations
Our Small Hemp Butterfly Design Gray and Cream Backpack is the perfect choice for anyone who wants a compact and eco-friendly backpack with a touch of nature-inspired design. Handmade in Nepal with 100% sustainable hemp materials, this backpack is both durable and eco-friendly.
Featuring a unique butterfly design in gray and cream colors, this backpack is not only stylish but also functional. With a size of 11 inches, it's perfect for carrying your daily essentials, including books, snacks, and a water bottle.
The adjustable straps ensure a comfortable fit, while the durable materials ensure long-lasting use. Plus, since it's made with sustainable hemp materials, you can feel good about your purchase and its positive impact on the environment.
Upgrade your backpack game with our Small Hemp Butterfly Design Gray and Cream Backpack. Order now and experience the perfect blend of style, function, and sustainability!