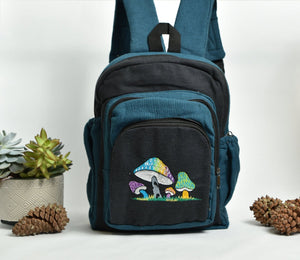 Enchanted Mushroom Garden Backpack - Unique Hemp Backpack - 12 Inches - Blue Bag - Green Mushroom Bag - Magic Mushroom Backpack
Regular price $48.00 Sale
OCCASION: School, hiking, camping, climbing, running, cycling, bike riding, outings, traveling and vacations
Our Fun Mushroom Design 100% Hemp Backpack is the perfect choice for anyone who wants a playful and eco-friendly backpack with a unique design. Handmade in Nepal with 100% sustainable hemp materials, this backpack is both durable and eco-friendly.
Featuring a fun mushroom design in vibrant blue or green colors, this backpack is sure to make a statement wherever you go. With a size of 12 inches, it's perfect for carrying your daily essentials, including books, a laptop, and a water bottle.
The adjustable straps ensure a comfortable fit, while the durable materials ensure long-lasting use. Plus, since it's made with sustainable hemp materials, you can feel good about your purchase and its positive impact on the environment.
Upgrade your backpack game with our Fun Mushroom Design 100% Hemp Backpack. Order now and experience the perfect blend of style, function, and sustainability!