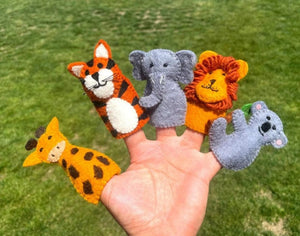 Handmade Felt Animal Finger Puppets from Nepal | 100% Felt Wool | Educational Toys for Kids | Gift for Kids | Unique Gift for New Moms
These adorable handmade felt animal finger puppets are the perfect way to encourage imaginative play and storytelling in young children. Made from 100% wool felt in Nepal, these puppets are soft, durable, and safe for even the smallest hands. With a variety of different animals to choose from, kids can create their own unique stories or act out their favorite nursery rhymes.
These finger puppets are also a great way to teach children about different animals and their habitats. The detailed craftsmanship of each puppet brings the animals to life, and the soft, natural materials are gentle on even the most sensitive skin.
Whether you're looking for a special gift for a child or simply want to add some fun and educational toys to your home, these handmade felt animal finger puppets are a great choice.