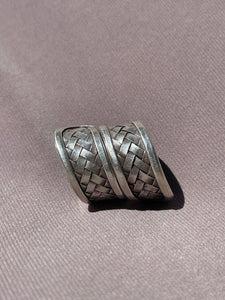 Karen Hill Tribe Silver Ring | 98.5% Silver | Adjustable Silver Hand Woven Ring
Regular price $45.00 Sale
Karen Hill Tribe Silver Ring | 98.5% Silver | Adjustable Silver Hand Woven Ring
Being between 98.5% and 99.9% pure silver, Karen HillTribe Silver has a higher silver content than Sterling Silver. Often, it's just the solder used to fuse the silver components together that makes up the last fractions of a percent.
The Hill Tribes people of Thailand are well-respected for their craftsmanship in metalsmithing. The seven major Hill Tribes of Thailand all have their own unique culture and customs. They are know as the Karen, Akha, Hmong, Mien, Lahu, Lisu and Palaung.
Handmade in Thailand northern region.
For our full collection of offerings please visit https://www.etsy.com/shop/bluskysoul