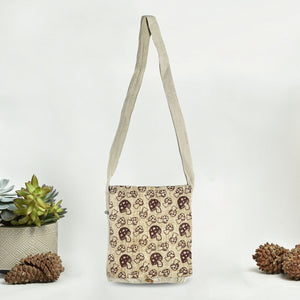 Mushroom Messenger Bag | Sustainable Hemp Fabric | Hemp Messenger Bag | 8 inches | Handmade in Nepal | Vegan Bag
Regular price $35.00 Sale
Add a touch of nature-inspired charm to your style with our Small 8-Inch Mushroom Print Messenger Bag. Handmade in Nepal using sustainable hemp fabric, this compact bag is perfect for those who appreciate eco-friendly fashion and unique designs.
Crafted from durable hemp fabric, this messenger bag is not only stylish but also environmentally conscious. Hemp is a renewable and biodegradable material that requires less water and pesticides to grow compared to other fibers, making it a sustainable choice for eco-conscious consumers.
Measuring 8 inches, this small messenger bag is perfect for carrying your essentials while on the go. It features a charming mushroom print design that adds a whimsical touch to your outfit, making it a statement piece that stands out from the crowd.
The bag features a main compartment that provides enough space for your belongings, such as a wallet, keys, phone, and other small items. The adjustable shoulder strap ensures a comfortable fit, and the sturdy buckle closure keeps your belongings secure.
Designed with both style and functionality in mind, our Small 8-Inch Mushroom Print Messenger Bag is a perfect accessory for those who appreciate sustainable and unique fashion. Whether you're heading out for a casual day out or a special occasion, this bag is a fashionable choice that reflects your eco-conscious values.