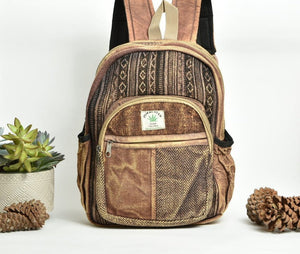 Stylish Rusty Brown Hemp Backpack - Medium Size (13"X12") - Fair Trade & Vegan - Handmade in Nepal
Regular price $55.00 Sale
Introducing our stylish and eco-friendly Rusty Brown Hemp Backpack, Medium Size (13"X12"), made with love and care in Nepal using only the highest quality materials. This gorgeous backpack is not only a fashion statement, but it's also ethical, fair trade, and vegan, making it the perfect accessory for conscious consumers who care about the environment and social responsibility.
Crafted from durable and sustainable hemp fibers, this backpack is designed to last for years, providing you with a reliable and stylish option for carrying your daily essentials. The beautiful rusty brown color is eye-catching and versatile, making it a great choice for any outfit.
The spacious interior of the backpack provides plenty of room for all your belongings, and the sturdy straps ensure that you can carry it comfortably all day long. Plus, the secure zipper closure keeps your items safe and secure, making it perfect for everyday use.
This Rusty Brown Hemp Backpack is not only a great addition to your wardrobe, but it's also an ethical and sustainable choice that you can feel good about. With its fair trade and vegan credentials, you can rest assured that you're supporting responsible and ethical practices, while also looking great.
So if you're looking for a stylish and eco-friendly backpack that's both practical and ethical, look no further than our Rusty Brown Hemp Backpack, Medium Size (13"X12"). Order now and experience the perfect blend of style and sustainability!
**FITS AN IPAD NOT LARGE LAPTOPS SINCE THE BAG IS MEDIUM SIZED**
OCCASION: School, hiking, camping, climbing, running, cycling, bike riding, outings, traveling and vacations
KEEP THINGS ORGANIZED: Zippered main pocket to carry what you need. Outer smaller Zippered pocket great for quick access . Large space inside with additional pockets, plethora of space for your good and easily Adjustable Straps