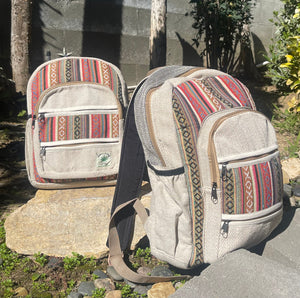 Vegan Handmade Large colorful Pink 4-Multi Pocket Himalaya Hemp THC free Made in Nepal Laptop Backpack for Men, Women, Boys & Girls.
Regular price $50.00 Sale
OCCASION: School, hiking, camping, climbing, running, cycling, bike riding, outings, traveling and vacations
KEEP THINGS ORGANIZED: Zippered main pocket to carry what you need. Outer smaller Zippered pocket great for quick access such as guide books, phone and camera. Two large side pockets for water bottles, umbrellas and other objects. Large space inside with additional pockets, plethora of space for your good and easily Adjustable Straps
DIMENSIONS: SIZE: 11 x 16 x 4 Inches, 1.5 Pounds (Approximate)
The color and designs might have a slight variation due to its handmade nature
HANDMADE: Made in Nepal with Natural Hemp and Cotton Fair Trade Product - The color and designs might vary a little due to the handmade nature.
SMALL DAYPACK : Perfect Small Daypack to carry your necessities for every occasion and show off your boho, bohemian, hippie side